Microsoft Office 2013 has a close integration with Microsoft services and if you use a Microsoft Account on Windows 8/8.1, it automatically signs in to it without asking you. Once you are signed in, Office 365 and OneDrive cloud features are enabled in the product.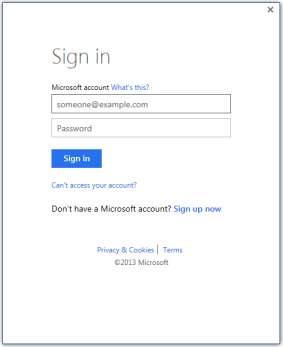 If you do not want cloud services integration in Office 2013, you might want to know how to disable the automatic sign in it performs. In this article, we will look at how to disable it with a simple registry tweak.
Open the Registry Editor (see our detailed tutorial about Windows Registry editor)
Navigate to the following key:

HKEY_CURRENT_USER\Software\Microsoft\Office\15.0\Common\SignIn

Tip: You can access any desired Registry key with one click.

Create a new DWORD value named SignInOptions and set its value to 3. This will disable the sign-in feature of Office 2013 completely.

The other possible values of the SignInOptions value are as follows:

|  value | RESULT |
| --- | --- |
| 0 | Users can sign in and access Office content by using Microsoft Account or Domain Account/Organization ID. |
| 1 | Users can sign in using Microsoft account only. |
| 2 | Users can sign in using Organization ID only. |
| 3 | Users cannot sign in with any cloud account. |

Restart your Office apps.